Send Inquiry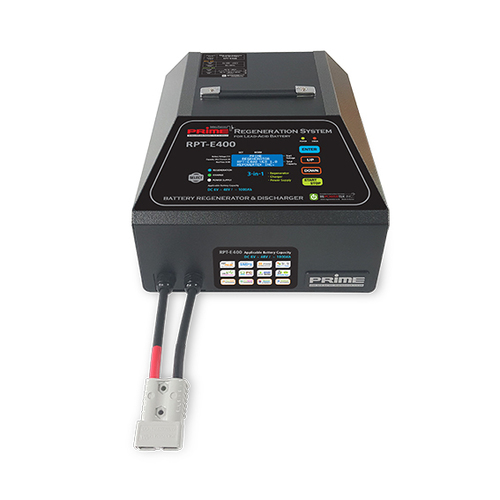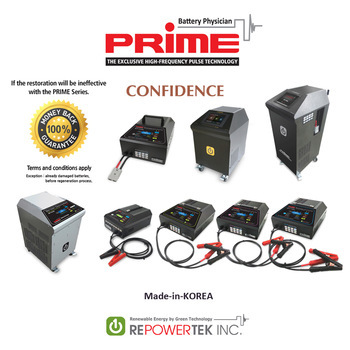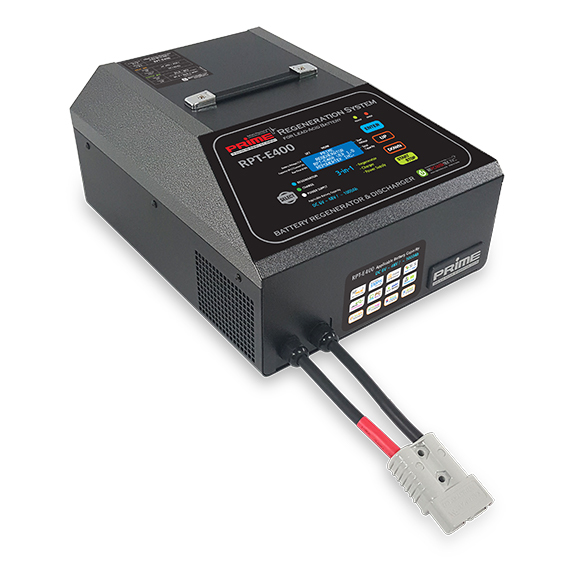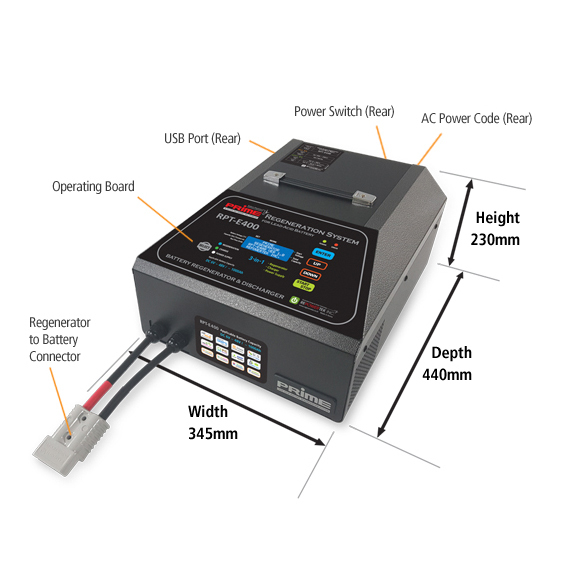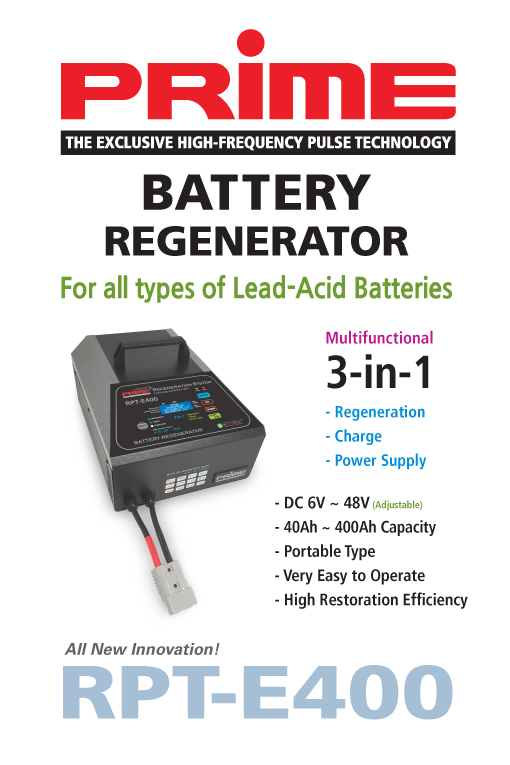 Price And Quantity
5000.00 - 9000.00 USD ($)/Unit

5000~9000 USD ($)/Unit

1 Unit
Product Specifications
34.5*44*23 Centimeter (cm)

2 Years

17 Kilograms (kg)
Trade Information
Inchoen Airport, Korea

Telegraphic Transfer (T/T), Western Union, Paypal

100 Unit Per Month

5 Days

Sample costs shipping and taxes has to be paid by the buyer

340mm(H) x 430mm(W) x 650mm(D), 20kgs / Unit : Carton Box Packing

Asia, Australia, Central America, North America, South America, Eastern Europe, Western Europe, Middle East, Africa

CE,FCC,ISO
Product Description
PRIME RPT-E400 Universal Battery Regenerator (Portable Type, 3-in-1, 6V~48V)
6V~48V all-in-one voltage, Input AC Power Consumption: 2KW (max.), Max. 30A output current, LCD Screen Monitor. This system easily de-sulfates all kinds of lead-acid batteries up to 400Ah (Optimized up to 400Ah, and more capacities are regenerated by repeated processes) such as Forklift, Telecom UPS, Golf Carts and automotive /solar/UPS batteries with sizes of 6-volt, 8-volt, 12-volt, 24-volt, 36-volt or 48-volt batteries. You can also connect batteries in series, such as max. 4 batteries of 12 volts each, which equals a 48-volt bank of UPS and Reach Forklift batteries as well. And more .... (210~240VAC, Single Phase) 340mm(H) x 430mm(W) x 650mm(D), 20kg


RPT-E400 (3-in-1) :

1. Regenerator (6V~48V all adjustable voltages-in-one, 40Ah~400Ah capacity) at 'REGENERATION' mode
2. Charger (6V~48V all adjustable voltages-in-one, Up to 400Ah capacity) at 'CHARGE' mode
3. Power Supply (6V~48V free setting mode of Voltage, Current & Time for special & sleeping batteries)

* Mainly used for 2V Reach Forklift, TELECOM UPS & other Traction bank/rack connected batteries
* Mainly used for 12V bank connected batteries up to 48V (4 x 12V batteries at the same time).
* Maximum Limited Output Current : 6V~48V = 30A
* A Discharger (RPT-D10K) is optional.
* The regeneration time with any PRIME regenerator takes 15 hours including a full charge. But any battery was already nearly full charged, the operation of PRIME will be automatically finished earlier than setting time.
* PRIME regeneration methods are not adding any sulfuric-acid and chemical additive in any cell at all.

More details, please send inquiry.
Product Introduction
COMPLETELY NEW BATTERY REGENERATION METHOD FOR LEAD-ACID BATTERY


If the specific gravity of lead-acid battery is low with a full charge it is because of the sulfate being very hardly deposited on the plates/grids (instead of being in solution). Changing the electrolyte or adding more acid won't help because of the sulfate crystals on the plates and grids. (VRLA batteries are all sealed, and no way to change GEL & AGM electrolyte) Actually, there is no way to clean the plates except using the highest-efficiency battery desulfator applied by optimized High-Frequency Pulse and Regeneration Algorithm of the PRIME Battery Regenerators.

Just as all battery manufacturers and suppliers around the world, we do not trust the performance of other's battery regeneration, and we do not admit the technology of all other regeneration machines as well because they are not more than Equalization Charger level. PRIME technology is completely new and different from all others.

"If a battery of any type CAN NOT be regenerated by a PRIME, it CAN NOT be regenerated by ANY OTHER machine". "To me PRIME machines it's No. 1 and I can support my word of mouth and I do have the arguments against ALL competitors in this field (battery regeneration) and I can prove what I'm saying!!!" (Mr. Yannis Chrissafis - Greece in Repowertek's testimonials)

APPLICATIONS : All types of Lead-Acid Battery. (Perfect Universal Use)

PRIME battery regeneration systems will be essential for all battery suppliers and maintain companies in the world to improve battery capacity by using the highest-efficiency battery desulfator applied by optimized High-Frequency Pulse and Regeneration Algorithm. PRIME can remove hard sulphation and improve the battery capacity much more than all other regeneration methods. Sure enough, PRIME will be the exclusive best solution of battery recondition to improve the capacity and lifespan of all types of lead-acid battery.

All PRIME products are made-in-Korea only.


Why YOU MUST BUY PRIME Battery Regenerators?
What is the PRIME Battery Regenerator?
=> It is developed by the revolutionary technology to regenerate all used lead-acid batteries.

1. Can restore all types of lead-acid batteries (RPT-E400 : 40Ah~400Ah) if any cell was not physically damaged (as disposal states).
2. Can remove sulfate crystals on the plates entirely by the optimized real High-frequency pulse.
3. Can regenerate most sulfated batteries up to max. 120% capacity against new battery (Except disposal states of physical cell damages)
4. Can extend battery's life spans up to 2~3 times longer and delay the battery's aging process.
5. Can save much costs by battery regenerations. (No more any saved recycle item than this regeneration)
6. Can restore batteries without any cell damage through optimized high-frequency pulse algorithm.
7. Optimized charging and regeneration algorithm data allows the most efficient way of recharging.
8. A full automatizing user interface (No better and easier interface than PRIME machines)
9. Multiple-purpose machine : Regenerator, Charger and Power Supply (Manual Mode).
10. The premium quality and performance with multiple functions, but the lowest prices. (Small Profits and Quick Returns)


* Special Advantages – All New Innovation!
1. Universal compatibility - All kinds of Lead-acid batteries from 6V to 48V and 40Ah~400Ah (RPT-E400)
2. A full automatic operation by very simple set up.
3. Excellent system durability and stability - Lowest defects by good quality parts and stable system
4. Lowest power consumption (ex. 48V 300Ah = About 20KW power consumption only for 15 hours totally)
5. Adoption of various electrical safety protection circuit design
6. No battery explosion with the advanced circuit system and micro-bubble desulfation process.
7. Sustaining lower temperature in the battery by automatic output voltage & current control
8. Satisfactory customer service and quick after service
9. Portable light weights and easy to carry
10. Using anywhere with AC220V Single phase (RPT-E400)

* Exclusive Advantages – All New Innovation!
1. Exclusive technology - The most advanced and optimized real high-frequency pulse regeneration technology.
2. Exclusive smart control system and high-frequency pulse inclusive current charging algorithm in a special Micom.
3. Exclusive regeneration software algorithm - Maximized restoration & desulfation effect and Minimal cell damage.
4. Exclusive bubble figure - The highest battery restoration performance with micro bubble de-sulfation process.
5. Exclusive multi-functional machines – 30% price only comparing purchasing all machines individually.
6. Exclusive circuit protection system and the most advanced circuit system design.
7. Exclusive regeneration performance - What could be better than PRIME? We are confident that there's nothing better!
8. Exclusive Power Supply Mode for manual setting regeneration and charge – Variable regeneration/charge methods.
9. Exclusive easy control and the easiest user interface by simple push button control set up
10. Exclusive full automatic regeneration process and fastest desulfation & charge time (15 hours).
11. Exclusive Graph output and printing by USB connection with PC (Microscopic analysis of regeneration or discharge test processes – supplying a shielded A-A USB cable)
12. Exclusive elegant exterior housing design with achromatic colors

* PRIME does not give the cell damage with the higher voltage due to the integral equation by positive and negative high-frequency pulse waves (RMS - World exclusive technology).
Enter Buying Requirement Details
Other Products in 'Battery Regenerator' category