82-32-322-9673/82-2-555-9660

Send Inquiry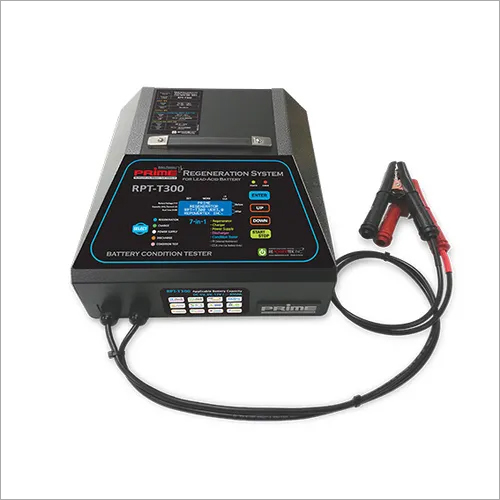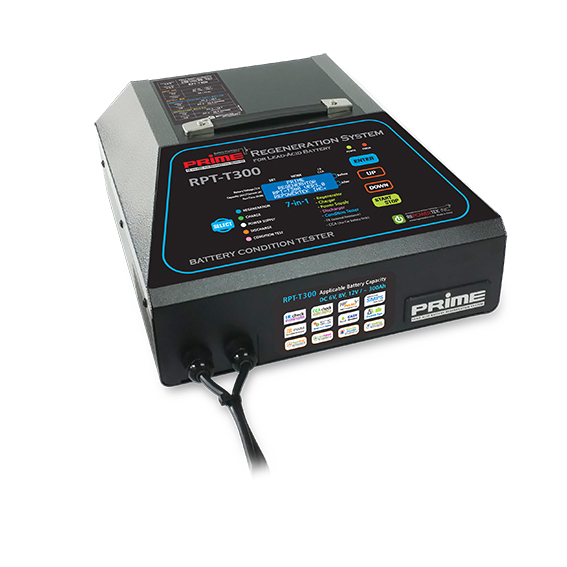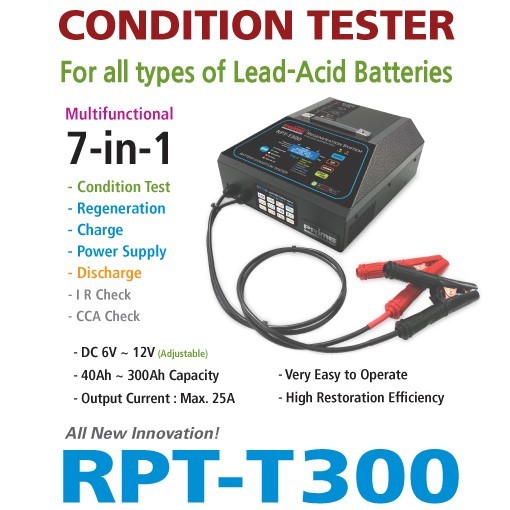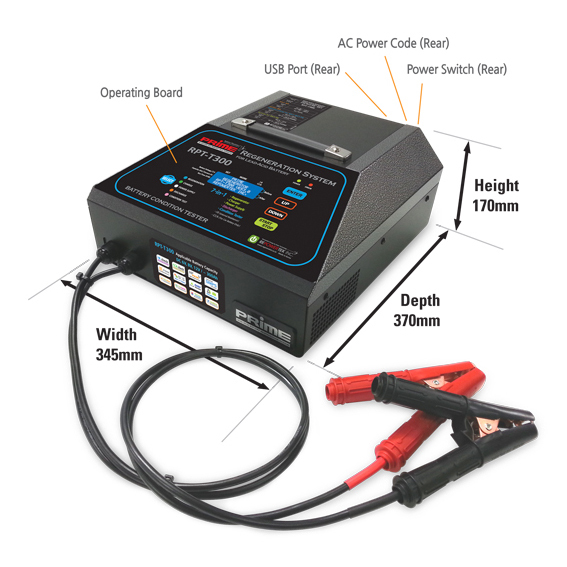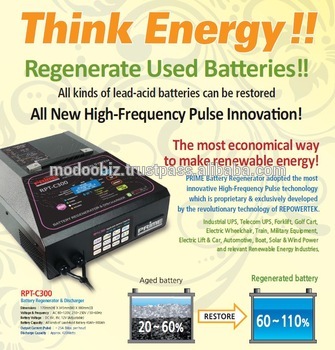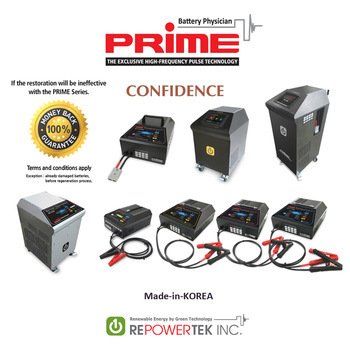 Price And Quantity
1 Unit

3000.00 - 6000.00 USD ($)/Unit

3000~6000 USD ($)/Unit
Product Specifications
10.92 Kilograms (kg)

34.5*38*17 Centimeter (cm)

2 Years
Trade Information
Inchoen Airport, Korea

Paypal, Western Union, Telegraphic Transfer (T/T)

100 Unit Per Month

5 Days

Sample costs shipping and taxes has to be paid by the buyer

280mm(H) x 430mm(W) x 520mm(D), 13.2kg / Unit : Carton Box Packing

Africa, Middle East, Western Europe, Eastern Europe, South America, North America, Central America, Australia, Asia

CE,FCC,ISO
Product Description
RPT-T300 Battery Condition Tester & Regeneration System (7-in-1, 40Ah~300Ah)
RPT-T300 Battery Condition Tester & Regeneration System (7-in-1 Multi-functional Regeneration System); It is a very special all-in-one Battery Condition Tester for 6V~12V lead-acid batteries. It supports multi-functions of digital Regenerator + Charger + Discharger + Power Supply + IR & CCA Checkers + Battery Condition Tester up to 300Ah at 12V batteries. For 12V battery, it is composed of 2 volts x 6 cells. It is hard to know about shorted circuit, cell cut, cell corrosion state and any damaged cells prior to a restoration process. In this reason, the other competitors must check on these damaged cases after finishing a process only. So, we have developed on 'RPT-T300'. It can find the short of electrodes and damaged cells within few minutes before restoration procedure. Auto battery condition test function (whether to be restored or not - by 'CONDITION TEST' mode). By using it, most batteries will be assorted for targeting ones to be regenerated with our new RPT-T300 if they do not have any cell cut or short and internal cell's damage (corrosion). RPT-T300 has a full automated function to regenerate by setting of Voltage and Total capacity only.
'RPT-T300 PRIME Battery Condition Tester and Regeneration All-in-One System (5 machines and 2 test functions are all-in-one combined)'
* Multi-functional Modes (7-in-1, 6V~12V, 40Ah~300Ah)
1. Battery Regenerator at 'REGENERATION' mode (For 6V~12V Battery up to 300Ah)
2. Battery Charger at 'CHARGE' mode (For 6V~12V Battery only up to 300Ah)
3. Power Supply at 'POWER SUPPLY' mode (For 6V~12V Battery up to 300Ah)
(Manual setting mode of Voltage, Current & Time for special & sleeping batteries)
4. Battery Discharger (420 Watts) at 'DISCHARGE' mode (For 6V~12V Battery up to 300Ah)
5. Battery Condition Tester at 'CONDITION TEST' mode (For 12V Battery only up to 200Ah)
6. IR (Internal Resistance) Checking - before & after 2 ways
7. CCA (Clod Cranking Ampere for Car Battery ONLY) Checking - before & after 2 ways
* Maximum Limited Output Current : 6V~12V = 25A
* A serial connection up to 6V x 2 or 2V x 6 (12V) batteries at the same time. (up to 300Ah only)
The unique battery condition tester whether to be regenerated or wasted.
* It takes 1~10 minutes for 12V battery condition test by RPT-T300.
* GOOD or BAD batteries will be tested & identified by RPT-T300.
(Please note that Battery Condition Test of RPT-T300 is not an absolute-identification method.
It will be an assistance mode to assort GOOD or BAD batteries in a short time. The Condition Test and IR & CCA will be for the reference only.)
* GOOD : "Not physically damaged" and "Capacity 30%~100% can be recovered".
* BAD : "Physically damaged as a disposal state" and "Capacity less than 30% - Not to be recovered".
RPT-T300 is not an analyzer, but a battery condition tester with Regenerator & Charger & Power Supply & Discharger 5 machines and 2 checker functions are all-in-one combined for 6V~12V batteries. At 'CONDITION TEST' mode, it can test the battery conditions (12V, up to 200Ah) within a few minute. You can see it as 'CELL CUT', 'CELL SHORT' or 'CELL CORROSION' on the screen with a beep sound. If the battery is tested as a good battery to be regenerated, then you can see "OK TEST FINISH" on the screen with a beep sound as well. With RPT-T300, you can regenerate all kinds of lead-acid batteries including 6V~12V VRLA AGM & GEL, Car, Deep Cycle, Solar and so on. The discharger supports up to 420 watts. Input AC Power Consumption: 550Watts (max.). 280mm(H) x 430mm(W) x 520mm(D), 13.2kg
Why used lead-acid batteries need 'PRIME Battery Condition Tester (RPT-T300)'?
Many used batteries have not good conditions, therefore, most used batteries should be tested on the inside cell conditions (2V x 6 cells = one 12V battery). With any battery tester, it is impossible to check that any 2V cell was already damaged among 6 cells (12V). If any 2V cell was already damaged among 6 cells, the whole 12V battery should be discarded. Without RPT-T300, nobody knows until finishing a regeneration process whether the battery was already damaged or not. So, you will waste much time, labor cost and electricity uselessly. If you have PRIME RPT-T300, you can test all used 12V battery conditions prior to any process whether the battery condition is good to be regenerated or bad to be wasted. This is the only way to save time, labor cost, electricity cost and so on.
Please see more details, please send inquiry.
PRIME Battery Regeneration technology is the world's first invention to remove hardened sulphates by real high-frequency pulse. And it is far beyond other existing battery regeneration technologies. You'll prove clearly when you try PRIME!
Please check corrosion state inside the lead plates, and lack of electrolyte in any cell (total 6 cells in a battery). In order to ascertain whether it is true, you can try to open all cells in a battery, and check whether any cell is damaged by lack of electrolyte and corrosion or not. If the battery capacity (after regeneration and discharge) is lower than 30%, our PRIME Battery Condition Tester RPT-T300 is identified as a disposal (corrosion or cell-cut or cell-short). So, even though you found it as "working but regeneration fails", but the realistic life of batteries are almost finished (about to die). It means that the regenerable judgment of identification with RPT-T300 will be over 30% of battery capacity, therefore, it identified that less than 30% capacity ranked battery is almost useless. Even over 30% (31%~70%) rated with 'OK TEST FINISH' with T300's Condition Test, but it is not meaning of all good batteries. The exact capacity will be identified after regeneration and discharge test only.
Enter Buying Requirement Details
Other Products in 'Battery Regenerator' category